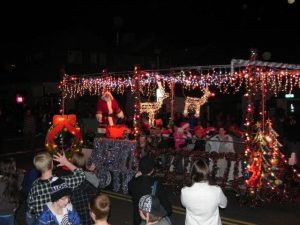 Twain Harte Christmas Parade

View Photos
Many events this weekend begin celebrating today, Friday the 7th.
At the Sonora Opera Hall, the Columbia College Community Chorus, under the direction of John Carter and accompanied by a 28-piece orchestra present "Sounds of the Seasons". The music will start at 7:30pm on Friday and Saturday and at 3:00pm on Sunday. Full details are in the event listing here.
The Mid Valley Unit of Backcountry Horsemen of California had their annual Columbia State Park Christmas Parade at 11am. The Christmas Parade in Twain Harte will begin at 5:30pm with a sing-a-long. The tree lighting and parade are at 6pm and pictures with Santa and other activities follow the parade.
Santa and friends will be out again on Saturday at 12pm in Jamestown at Rocca Park until 3pm. Santa will arrive in a 1929 Tudor Model A Ford and will be in town the following Saturdays as well. Music, carolers and children of all ages are welcome.
Horse Around Ranch Tractor Museum in Sonora will host its 2nd annual Christmas Light Show from 5:30pm to 9pm on Saturday. The event promises to fun for the whole family and bigger than last year. The event raises money for the Summerville Ag Program. For more details view the event listing here.
An Elves' Fair hosted by the Sierra Waldorf School in Jamestown will provide local handcrafted items, food, and music from 10am to 4pm. The event will be held at the school click here for the address.
In Murphys the First Congregational Church offers Christmas Home Tours and "All You Can Eat" Soup & Salad Supper. Tickets are $25 each and provide access to four beautifully decorated Murphys locations and the dinner in the church social hall on Algiers at Church Street. For more details view the event listing.
Native Daughters of the Golden West is holding its Bazaar & Christmas Boutique from 10am to 4pm on Saturday and Sunday at the Native Sons Hall in Columbia State Park. This is one of their main fundraisers to support local scholarships and community projects. Contact information is in the event listing here.
On Sunday the 30th Annual Las Posadas Nativity Procession begins at 5:30pm in Columbia State Historic Park. Las Posadas is a Spanish tradition that re-enacts the biblical story of Mary and Joseph's search for shelter in Bethlehem on the original Christmas Eve. Further details on the event are posted in the event calendar.