Rodefer Ready For Supervisor Seat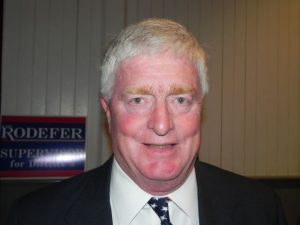 Supervisor Rodefer

View Photos
Karl Rodefer says he is preparing to take the Tuolumne County Supervisor District 5 seat.
Rodefer was Friday's KVML "Newsmaker of the Day".
The District 5 seat has been held by long time Supervisor Dick Pland.
"We owe Pland a debt of gratitude for his leadership and service to this county" said Rodefer.
Rodefer grew up in an Air Force family living in Germany and several states including California. In 1972, he graduated from the United States Air Force Academy with a Bachelor's Degree in Engineering. In 1980 he received his Masters Degree in Government and International Relations from New Mexico State University.
"I am both a Vietnam and Gulf War Veteran. During my 23 years on active duty, I rose to the rank of Lieutenant Colonel ahead of 98% of my peers to lead a fighter squadron flying operation, said Rodefer. "I culminated my career at the Pentagon in Washington, DC where I advised two Congressional Base Closure and Realignment Commissions on our combat force structure and oversaw approximately one quarter of the Air Force budget. I am a Command Pilot with over 3000 hours in jet fighter aircraft, principally the F-4 and F-16."

After retiring from the Air Force, Rodefer spent seven years as a Senior Operations Research Analyst with a defense contracting company. Later, he was Program Manager of several highly classified space systems development programs for the Department of Defense and the National Reconnaissance Office.
In 2003, Rodefer and his wife Jo moved to Sonora and became active memebers of the community. He has been active in the Mountain Springs Golf and Men's Clubs, serving on the Men's Club's Board of Directors for six years, including one year as its President. Rodefer is also a member of the Tuolumne County Chamber of Commerce, the Promotion Club of Jamestown and the Columbia Chamber of Commerce. He is also a part of Friends of Columbia and has supported efforts to save both Railtown 1897 and the Tuolumne County Fairgrounds.
Yet with all of this, Rodefer says that taking the District 5 seat as Supervisor next month, is one of the most unusual things he's ever done.
"Never even thought of such a thing a few years ago," said Rodefer. "But I was encouraged by a number of local people, when we were discussing local issues and concerns."
Rodefer says that he has been studying issues and will no doubt continue to do so, after taking the seat, next month.
The "Newsmaker of the Day" is heard every weekday morning on AM 1450 KVML at 6:45, 7:45 and 8:45am