Tragedy For Sonora's Red Church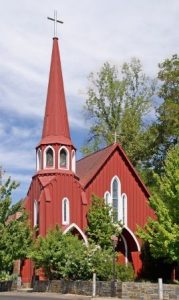 Sonora's historic landmark Red Church

View Photos
Hollister, CA – A three vehicle crash has taken the lives of 60 year old Father Wolfgang Krismanits of the St. James Anglican Church or "Red Church" in Sonora and his wife 51 year old LaDonn. It happened Tuesday just before 4 p.m. in Hollister in San Benito County. The CHP reports the couple's Mercury Sable was broadsided at the intersection of Highway 156 and San Felipe Road.
CHP Spokesperson for the Gilroy Unit Erica Elias says, "A 2000 Nissan Altima failed to stop at a red light as 2002 Mercury Sable was coming into the intersection. The Sable was broadsided by the Altima. The Sable skidded into oncoming traffic and a Peterbuilt Big Rig truck smashed into the [Wolfgang's] driver door."
Father Wolf, as he was known, was pronounced dead at the scene.
The CHP says emergency crews had to use the Jaws of Life to get LaDonn out of the car. She was taken to a Hollister area hospital with major injuries and later succumb to those injuries.
Senior Warden of the Board for the church Bob Townley says, "The whole parish is in a state of shock over the news and we are just trying now to come to the realization of what it means for us and of course Father Wolf's family. I just covet your prayers for the parish and the family. I've always had a high respect for them and they will be missed by not only the parishioners, but the whole community as well." Townley says funeral arrangements have not been made yet.
The couple was returning from a doctor check up in Monterey. Father Wolf was recovering from recent open-heart surgery.
The CHP says charges could be filed against the driver who ran the red light.