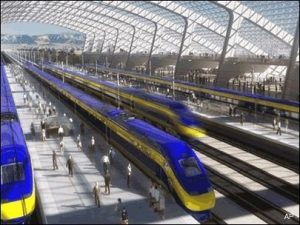 HSR

View Photos
Sacramento, CA — A Sacramento County judge has denied a request from Central Valley farmers to halt all work on the High-speed Rail Project until their case is heard.

The judge rejected the farmers' claim that the state violated environmental laws, saying the California High-Speed Rail Authority "acted reasonably and in good faith" in considering the project's impact. The judge made his ruling late Friday.
The state currently hopes to have the first 130 miles of track in place by 2017. Construction is tentatively scheduled to begin in Fresno next July.