Tough Year For Incumbents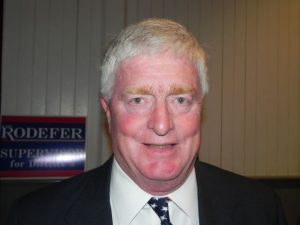 Supervisor Rodefer

View Photos
Sonora, CA — Many newcomers came out victorious in races in Tuolumne and Calaveras Counties.
Some of the races are still too close to call, as many provisional and last minute absentee ballots still need to be counted.
We do know that there will be a new look to the Board of Supervisors in the two counties. In Tuolumne County, Sherri Brennan defeated Liz Bass in the District One race, 59% to 40%. "I'm looking forward to it, and I'm thankful to the voters of District One," says Brennan. "I'm not going to let them down."
In District Five, where incumbent Dick Pland did not run, Karl Rodefer received 65% of the vote to defeat Domenic Torchia who had 34%.
In the District One Calaveras County Supervisors race, challenger Cliff Edson defeated incumbent Gary Tofanelli, 56% to 43%. In the District Two race, Chris Wright is leading Bryce Randall 51.6% to 48.3%. In District Four, former Angels Camp Mayor Debbe Ponte defeated incumbent Tom Tryon by a count of 60% to 40%.
In the T.U.D. race, it appears that none of the incumbents will win re-election. The top vote-getters are Jim Grinnell, John Maciel and Kent Johnson. "It will be an interesting time," says Grinnell. "It will be different from the past, but we certainly have a lot of talent on the board."
For the two year seat, Michael Sarno defeated Ron Ringen, 56% to 44%. "I want to take a close look at T.U.D. and see where we can reduce costs," says Sarno. "I think the biggest problem we have had, is that the rate payers have seen increases in their rates, but no cost reductions from T.U.D."
When it comes to the Presidential Race, a majority of Mother Lode voters supported Governor Mitt Romney over the eventual winner, President Barack Obama. Interestingly enough, in both counties, it was Romney 56% to Obama's 40%.
To view the local election results, click here.