November Begins With Celebrations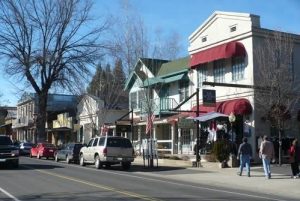 Downtown Murphys

View Photos
Today and this weekend many events are happening across the Mother Lode.
The 3rd Annual three day ITSA Film Festival starts today and each day at 5pm in the Sonora Opera Hall. Guests will; see quality short films from around the world, animation, as well as REEL Scary Horrow Films, attend workshops, and be entertained by live music. Kimberly Francis, Public Relations Coordinator says, "It's a true gem found in the rolling "reels" of Tuolumne County." For more information see the event listing.
At the Dogwood Forum at Columbia College the Wild & Scenic Film Festival will show five films. The event is on Saturday, for more details view the event listing.
Saturday and Sunday afternoon Murphys will celebrate "Dia de los Muertos". Held on Main Street Murphys and Surrounding Area the Murphys Business Association members will celebrate the Day of the Dead with traditional decorations, treats, Folk Art Exhibition, Catrin/Catrina dress contest, wine tasting and join the Procession to St. Patrick's Cemetery. According to the event listing "The Day of the Dead celebrates the lives of those who have passed but are with us in heart and spirit." More information is here.
The 15th annual Teddy Bear Tea hosted by Soroptimist International of Calaveras County will be held at Frogtown in Angels Camp. The event starts on Sunday at 1:30 and will feature jugglers, music, ballet dancers, face painting, crafts projects, a clown, Mr. & Mrs. Santa Claus in addition to raffle gifts for children and adults. Reservations are mandatory for details view the event listing here.
Lake Don Pedro Association will hold its 27th Annual Christmas Arts & Craft Fair today until 6:00pm and Saturday from 10:00am to 5:00pm at the Hacienda at 5182 Fuentes de Flores (corner of J59 and Bonds Flat Rd) in LaGrange. There is no admission fee to attend. The Fair is a volunteer event to raise funds for community activities such as the Annual Health Fair, Movie nights and improvements to the El Prado Park. The kitchen will be serving breakfast and lunch on both days, more details are in the event listing.
A Holiday Boutique will be held on Saturday at the Twain Harte Golf Course from 8:30 am to 5:00 pm. Assorted vendors with homemade items for your home, holiday decor, jewelry, baked goods, dolls, and other gift items. There is no charge for admission.
The "Feed the Bears" dinner and auction is a fund-raiser sponsored by Summerville High School Foundation. Doors open at 4:30pm at Tuolumne Memorial Hall and dinner is served from 5pm-7pm. More details are here.
A Mountain Derby Girls Roller Derby Triple Header will end their 3rd winning season at the High Country Sports Arena. The doors will open at 2:30pm and the games go till 9:00pm details are in two event listings "Operation Roller Derby" and more info here.
Early Saturday morning the Knights Ferry Salmon Festival will begin at 10am. The "Family fun event" at historic Knights Ferry is at the height of the salmon migration on the Stanislaus River. For event activities view the full event listing here.