Robot Helps Stroke Patients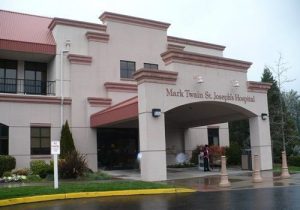 Mark Twain Medical Center

View Photos
San Andreas, CA — A new robot and computer technology has Calaveras County stroke patients working directly with top neurologists in the area. Mark Twain St. Joseph's Hospital physicians are using computers to link to Mercy Hospital stroke specialists in Sacramento. This means patients don't have to make long trips for their health care.
The technology is part of the Mercy Telehealth Network's telestroke service. This technology is the only FDA approved telehealth technology available. Stroke specialists at the hub "control centers" remotely control the wireless, mobile robots located at 12 Northern and Central California hospitals in the network, which enable them to examine and talk directly to patients, consult with on-site physicians, assist and help direct therapy, and interact directly with the family.
"Our partnership with the Mercy Telehealth Network is so exciting here in Calaveras County," said Randy Smart, MD, medical director of the intensive care unit at Mark Twain St. Joseph's Hospital. "Our patients will now have immediate access and great stroke care from Mercy neurologists during a critical time, right here at Mark Twain St. Joseph's Hospital."
The Mercy Telehealth Network hubs are located at Mercy General Hospital in Sacramento and Mercy San Juan Medical Center in Carmichael.
One special note, Mark Twain's robot has been named "Lynnie," after Lynn Gates, a hospital nurse who died of a stroke in 2009.