50 Percent Vote By Mail In State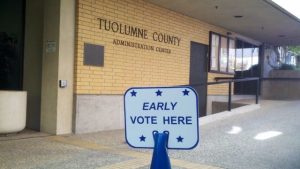 Tuolumne County Voting

View Photos
Sonora, CA – State Election officials say Election Day in California could morph into election week. That is because 50 percent or more of voters are expected to cast their ballots by mail and several statewide contests are toss-ups. They say absentee ballots take longer to count because election workers must compare the signature on the mailed envelope with the one on that voter's registration card. Elections officials are urging voters to have patience.

In Tuolumne County, nearly 70 percent of the ballots are vote-by-mail. County Election Official Debi Russell-Bautista stresses it won't take that long here.
Russell-Bautista says, "We process according to the code and the time frame all of the ballots that we receive vote-by mail are in the results Tuesday, election night. So if you get your ballot into us on Monday night it will be part of the results on election night."
Russell-Bautista says with so many people voting by mail those numbers must be counted to get an accurate tally on election night.