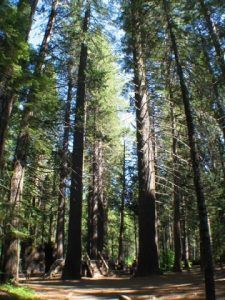 Calaveras Big Trees

View Photos
Arnold, CA — Officials at Calaveras Big Trees State Park are warning that you may notice some smoke in the air later this week.
Park official George Gray says prescribed burns are scheduled to get underway within the next couple of days, and burning will continue up through Thanksgiving. One thing of note this year is that they will do some thinning around many of the giant sequoias that have made the Big Trees State Park famous.
"We have almost 4,000 trees per acre surrounding our giant sequoias, and they compete for the same water and nutrients as the giant sequoias, and it is no doubt affecting their health," says Gray. "We're going to reduce it to the natural level, which is about 70 per acre," Many of the smaller trees around the giant sequoias will be cut down and later burned.
Gray notes that the smoke may be visible in the communities surrounding Big Trees State Park. Burning will begin as soon as the state drops the ban on outdoor burning, which Gray says will likely be sometime this week.