Tuolumne County Commission On Aging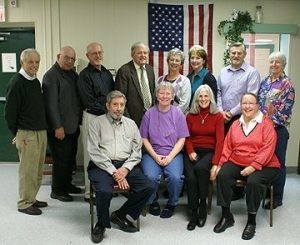 Roberta Goodwin

View Photos
The Commission on Aging is an informed voice in the community, to advise, support and advocate on any or all matters affecting the aging in Tuolumne County.
Cathie Peacock, Chairman of the Community Relations Committee and longtime Commission member, was Wednesday's KVML "Newsmaker of the Day".
According to Peacock, "We purpose to be a visible advocacy group, promoting an improved quality of life on behalf of our senior community.
The commission actively seeks to understand community needs impacting seniors, their families and their community. Our focus areas are education, transportation, community involvement and legislative matters."
Peacock has been working hard along with the other members of her committee to get ready for the 2012 Centenarian Awards Ceremony scheduled for 11AM this morning (October 24th) at the Tuolumne County Senior Center.

Peacock said, "The Commission on Aging acknowledges and honors our citizens who have reached age 100 yrs or older. They will be inducted into Tuolumne County's Centenarian Society. In addition, those who are 96 (freshman); 97 (sophomores); 98 (juniors); 99 (seniors) years old will be recognized as students in the University of Life of Wisdom and Experience."
The public is invited to attend the hour long free event.
This agency's staff provides services to more than 11,000 seniors in five counties: Alpine, Amador, Calaveras, Mariposa and Tuolumne. Services include information and assistance, caregiver support, nutrition, fitness, Medicare counseling and much more.
The agency is headquartered in Sonora, at 19074 Standard Rd. Contact Area 12 at (209) 532-6272 or (800) 510-2020,
The "Newsmaker of the Day" is heard each weekday morning on AM 1450 KVML at 6:47, 7:47 and 8:47am.