Voter Registration Deadline Fast Approaching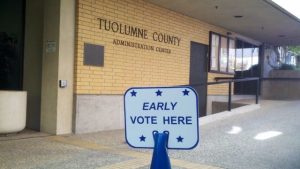 Tuolumne County Voting

View Photos
Sonora, CA — If you want to vote in the November 6th election don't miss the deadline.
Monday, October 22nd is the cut off for registering to vote. You can pick up voter registration form at your local post office, library or county elections office and then mail it. Easier yet, file online by clicking here.
Elections Official Debi Russell-Bautista says, "You can register on line at the Secretary of State's website if you have a California driver's license or ID card because that is what's used for the signature. So we don't need them to mail in a registration card."
Voter registration closes 15 days before each election in California.
You must re-register to vote if you move, change your name or political party. If you are not sure you are registered to vote, you can click here.
Russell-Bautista reports nearly 70 percent of registered voters in the county use the vote by mail ballots rather than voting at the polls. The mail in ballots must be received at the Election's Office by November 6th or may be dropped off at a polling location. Any ballots received after Election Day will not be counted.
The Tuolumne County Elections Office at 2 South Green Street in downtown Sonora is considered an early polling place. Anyone may vote there, Monday through Friday from 8a.m. to 5 p.m., excluding holiday. On Election Day the hours will be 7a.m. to 8 p.m. You may also contact the Election's Office by calling (209) 533-5570.