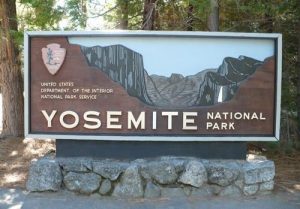 Yosemite Main Entrance - Highway 120

View Photos
Yosemite, CA — After being closed for well over two years, the Mirror Lake hiking trail in Yosemite National Park is back open this morning.
The five mile loop that follows Tenaya Creek, around Mirror Lake in Yosemite Valley, was closed in late March of 2009 because of a rockslide. The park reports that rocks fell approximately 1,800 ft. to the floor of Yosemite Valley, from Ahwiyah Point.
It knocked down hundreds of trees, and buried hundreds of feet of trail, on the southern portion of the loop. Yosemite crews have constructed a new trail on the edge of the talus slope near Tenaya Creek. Work consisted of removing trees and rock in order to create a new trail alignment.
It officially re-opened at 5pm yesterday.