The Chamber's Harvest Trade Faire 2012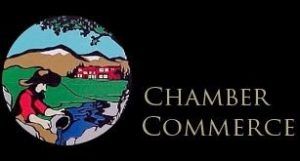 Tuolumne County Chamber Of Commerce

View Photos
The Harvest Trade Fair 2012 will take place this evening in the Manzanita Building at the Mother Lode Fairgrounds in Sonora.
Tuolumne County Chamber of Commerce Chairman Chris Caldwell, was Thursday's KVML "Newsmaker of the Day".
According to Caldwell, this Faire gives smaller chamber members a chance to be a part of one of the "After Hours Parties" or "mixers".
"Many of our members just do not have the floor space to be able to host a gathering of a hundred people or more,"said Caldwell. "This Faire provides the opportunity to show others exactly what their business is all about".
Caldwell confirms that around forty vendors will be on-hand and the public is encouraged to grab special "passports" at the front door, then visit every booth in order to receive stamps and be entered into a variety of drawings. Additionally, a wine country getaway raffle drawing will be held.
Costumes are welcome and Caldwell emphasizes that this is a free family event open to the general public. There will be food and a variety of drinks available.
Tonight's event runs for only two hours: 5pm – 7pm.
For more information call the Tuolumne County Chamber of Commerce at 532-4212. Or log onto http://www.tcchamber.com/
The "Newsmaker of the Day" is heard each weekday morning on AM 1450 KVML at 6:47, 7:47 and 8:47am.