Body Recovered In Lake Don Pedro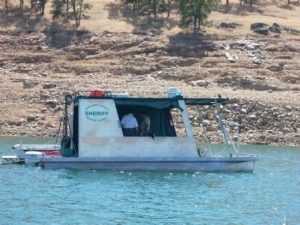 Boat Patrol At Don Pedro

View Photos
Lake Don Pedro, CA –Search crews have recovered the body of the man who jumped off the Jacksonville Bridge in Lake Don Pedro.
Tuolumne County Sheriff's Officials say he is 32 year old Bernard Duane Lynch of Rio Vista. They say Lynch was at the lake fishing with a friend and told him he was going to jump for fun. They say Lynch's friend warned him against jumping, but he did it anyway and never surfaced after he hit the water. Divers have been searching for Lynch since Sunday. They discovered his body around 5:30pm yesterday.
Sgt. Jeff Wilson says, "He was located in about 109 feet of water with the help of a remotely operated vehicle (ROV) from Merced County Sheriff's Office. Mr. Lynch's body was sighted by the ROVs camera and its gripping arm brought him to the surface where he was recovered by members of Tuolumne County Boat Patrol."
Wilson says an autopsy will be performed. He says there is no evidence of foul play or that this was suicide attempt.