Centennial Celebration And More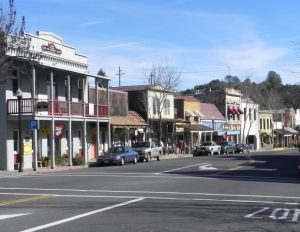 Angels Camp

View Photos
Events this weekend include the much anticipated Centennial Celebration of Angels Camp. This is the main event in the historic Gold Rush town of Angels Camp's year-long celebration of its 100th anniversary as an incorporated city.
On Saturday the Street Fair will close Main Street (State Highway 49)from 11 am to 4 pm for the first time in over 50 years.
The Street Fair will include Western gun fights, a frog jump, an old-fashioned soap box derby, pony rides, vendors of all descriptions, street performers, lots of food and drink concessions, and a variety of music stretched from the historic downtown to Utica Park.
Friday evening, September 28, there will be a Kick-Off Concert of historic American music in Utica Park from 6 to 9 pm. On Saturday a variety of local musical talent will also entertain on Saturday on four stages located throughout the historic downtown. For more information view the detailed event listing here.
There are many fundraisers listed to take place on Saturday here including the 3rd Annual – Horses, Wine and Art from 12pm – 8pm at Bridlewood Equestrian Center in Copperopolis for ReHorse Rescue Ranch in Jamestown. More details are listed here.
Another event involving horses, the California Gymkhana Association Horse Show, will be held at Sonora's Mother Lode Fairgrounds. Sign up at 9:00am all ages and abilities invited to attend, spectators and volunteers welcomed. For contact information visit the event listing.
Also on Saturday is the Habitat for Humanity ReStore Clearance Sale
9am – 5pm. The event listing notes "It's World Habitat Week! Come celebrate with us at the Habitat ReStore" more information about it here.
There will be a Swap Meet at the Motherlode Fairgrounds from 6:00am – 6:00pm to fund efforts to rebuild Chinese Camp. More details are listed here.
Another "Take Back the Drugs Day" allows the public to safely get rid of unwanted medication. More details here.
There are also several outdoor adventures including the NPLD Shadow of the MiWok Trail Restoration in the Pinecrest area. Tuolumne Band of Me-Wuk Dancers will perform dedication ceremony at 10 am. Volunteers will help replace sign posts, line trail with rocks and rake trail. Further details about the event are here.