Gas Leak And Evacuation At San Andreas Elementary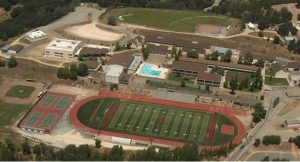 Calaveras High School

View Photos
There is a gas leak at the San Andreas Elementary School and students have been evacuated.

Calaveras County Sheriff's Spokesperson Debby Parsons has the latest information "We received a call at about a gas leak. It was a report of a leak from a three inch gas main and that we may need to evacuate the San Andreas Elementary school. The students have been evacuated and moved to Calaveras High School and the buses have been re-routed to there."

Parsons says PG & E is en route to the School. She says fire fighters are on scene keeping everyone away from the school. There are no injuries to report. Parsons says buses have been re-routed to the high school to take students home. If parents need to pick up their kids they can also go to the high school. However, Gold Strike Road is closed at this time.

Click here for a map of the site.
Update 3pm: Calaveras County Sheriff's Officials report PG & E is on the scene trying to fix the leak. They say that could take several hours. CAL Fire remains on the scene. They say crews are there just as a safety precaution.
Update 4:15pm: Calaveras County Sheriff's Officials report all buses and students are clear of the area. They say their deputies have also left the scene. PG & E says crews are still on the scene, but hope to have the leak fixed in the next couple of hours.