Saturday Mother Lode Events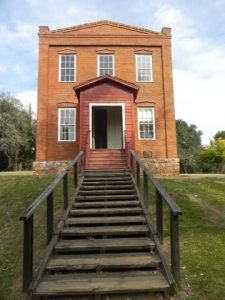 Historic Columbia School House

View Photos
Several events are happening this Saturday.
The 23rd Annual Quilts and Threads Show is at the Mother Lode Fairgrounds. For details and ticket prices view the event listing here.
At the Blood Bank of Sonora will host the Red Cross "Save-a-Life Saturday" from 11AM- to 4PM. Register for one of the hands-free CPR demonstration sessions and AED (automated external defibrillator) trainings will be offered on the half hour free to all community members. For more information view the event listing here.
A related earlier news story, "The Red Cross Wants You" is about Calaveras County Red Cross who wants volunteers next Saturday, September 22nd, to help them get valuable experience by helping with a mock disaster. They want volunteers to play the role of disaster evacuees. It's part of a training exercise that will simulate a Red Cross evacuation center and a Red Cross disaster shelter. The full story is here.
The Sierra Nevada Conservancy is hosting the 4th annual Great Sierra River Cleanup this weekend. Last year over 3,600 volunteers picked up trash along the Sierra Nevada that was left by Labor Day and summertime visitors. For more information read the "Cleanup The Waterways" news story here.
Columbia has several events going on Saturday and Sunday as well. The 40th Annual Columbia Fine Art Show will have displays of over 50 fine artists. The Old Brick School House on the Hill near the Columbia Cemetery will be open for "Back to School-1861" from 4PM to 7PM Saturday. Details for that are listed here.
For the adventurous there is the Harley Ride and Poker Run and the High Country Mountain Derby Girls.
In Calaveras there is the Taste of Calaveras at the Calaveras County Fairground from 11AM to 3PM. Hosted by the Angels Camp Business Association the event is a celebration of wine, food, art and culture of Calaveras County showcasing only Calaveras businesses and products. Many details are listed in the event listing here.