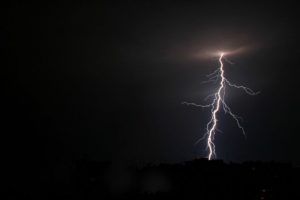 Lightning at night

View Photos
Calaveras County, CA – CAL Fire reports lightening strikes spark a total of 24 fires in the Mother Lode as storms passed through yesterday and last night.
They say most of those fires involved 1 acre or less. The largest fire was the Salt blaze at Salt Spring Valley Road and Hunt Road near Copperopolis. That fire burned 84 acres.
CAL Fire Spokesperson Lisa Williams says "Over the next couple of days we will continue to have resources out looking around for sleepers that could pop up as the days become warmer and drier. These sleepers could become fires so we will have people looking around for those types of smoke conditions."
Click here for a map of the Salt fire.