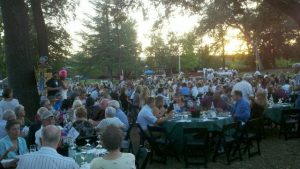 Meals On Wheels Fundraiser

View Photos
Jamestown, CA — It was a record breaking year for the annual Meals on Wheels fundraiser held at Railtown 1897.
Mike Ruggles of Sierra Senior Providers, which provides Meals on Wheels, reports that over $75-thousand-dollars was raised this year. "The funds will help us provide about 15,000 meals, which represents 25 percent of the meals we provide each year to seniors that are homebound," says Ruggles. "We are very, very happy."
Ruggles says he would like to thank the organizing committee, led by co-chairs Ron Patel and Julie Von Savoye. He also thanks everyone that bought a ticket and came out to the event.
Ruggles notes that this was the first time, in the six years of the fundraiser, that it was a "sold out" event. The $75K figure is the net amount raised once the expenses of putting on the event were subtracted.