Jamestown Vandalism Arrest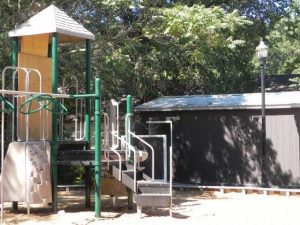 Playground at Rocca Park

View Photos
A man was arrested after lighting an early morning fire at Jamestown's Rocca Park.
It happened during the five o'clock hour. It was the second of two incidents related to 58-year-old Roy Hurlbert being investigated by the Tuolumne County Sheriff's Office. Sgt Jeff Wilson says Hulrbert also faces a charge of vandalism from an incident that occurred just a short time earlier.
"Sheriff's deputies responded to a disturbance on Main Street in Jamestown, and when they arrived they spoke with a victim who said that Hurlbert tried to break into his house," says Sgt. Wilson. "When Hurlbert was unsuccessful, he started throwing rocks through the windows of the house and the victim's car."
Hurlbert told officials that he had a prior dispute with the victim.
Hurlbert then walked over to Rocca Park and set fire to paper towels in the park's bathroom. He took the paper towels and threw them into a wooden trash receptacle. Hurlbert told the Sheriff's Office that he lit the fire in order to keep warm. The Sheriff's Office reports that Hurlbert is a transient without a known address. He was booked into Tuolumne County Jail.