Yosemite Bear Encounters Down, Damage Up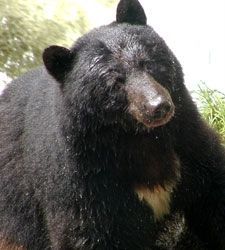 American Black Bear

View Photos
Yosemite, CA — Apple picking in Yosemite today will help reduce black bear and human contact by eliminating the non-native food source but bears hit by vehicles contrubute to a high damage total this year.
There are two historic apple orchards in Yosemite Valley (in the Curry Village parking area and near the stables) that produce apples which attract bears to highly concentrated visitor use areas. For the 15th consecutive year, the park will conduct an Apple Picking Event, in which park visitors and volunteers are asked to help collect the non-native apples from the trees in the Curry Village orchard. Park staff will be onsite to provide help in picking apples and provide public education and awareness.
Yosemite National Park Spokesperson Kari Cobb says park visitors have done an excellent job with proper food storage, thus severely reducing the availably of human food for bears.
Black bear and human incidents in Yosemite National Park have been reduced approximately 90 percent since 1998. An incident is defined as an interaction between a bear and a person or property. The significant reductions are attributed to an intensive public outreach and education campaign stressing proper food storage. 1998 the biggest year for bear incidents and property damage.
The most recent Yosemite report states that as of July 28th, there have been only 40 reported incidents. In 2011 there were 63 incidents with damage from the encounters estimated at $11,150. This year the damage from the 40 incidents is just over double last year at $22,827.
Thirteen bears were hit by vehicles by the end of July of this year. Four bears were hit in the last week of July along Tioga, Glacier Point, and Wawona Roads. Of the thirteen that were hit, four were confirmed dead. Park officials continue to warn visitors to slow down and drive at the posted speed limit.