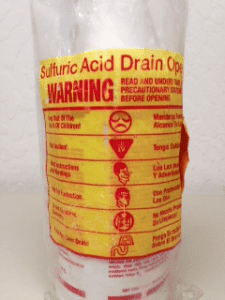 Hazardous Household Waste

View Photos
Sonora, CA — Tuolumne County residents will be given the chance to get rid of their unwanted hazardous household waste products today and at the end of summer.
The service is free to Tuolumne County residents. There are two locations taking in those waste products and no appointment is needed:
In Sonora, Saturday May 18
Waste Management Recycling Center
 8 a.m. to 1 p.m.
14959 Camage Ave in Sonora
In Groveland, Saturday August 17
Groveland Transfer Station
8 a.m. to 1 p.m.
10700 Merrell Rd. Groveland
Here is a list of materials you throw out:
Oven/drain cleaners
Mothballs
Non-empty aerosol cans
Deodorizers
Household cleaners
Nail polish remover
Shoe polish
Weed killers
Insect sprays
Pesticides
Fungicides
Pool chemicals
Glues
Polishes
Solvents
Oil-based paint
Gasoline
Thinners
Wood preservatives
Photo chemicals
Art supplies
Brake fluid
Waxes
Rust preventatives
Contaminated oil
Engine/brake part cleaners
Rules to dump the waste:
Keep waste in original container
Do not mix material
Prevent leakage or spills (Place container in tub or box and surround with paper or kitty litter)
Transport wastes in trunk or secured in bed of truck
Restrictions:
No containers larger than 5 gallons
Limit toxic items to 15 gallons or 125 pounds per trip (California State Law)
Items not accepted:
Ammunition or explosives
Asbestos, tires, or medical waste
Radioactive waste
Marine flares
Non-hazardous regular trash
Questions please contact Tuolumne County Solid Waste Division (209) 533-5588.