It's Farmers Market Time Again In Downtown Sonora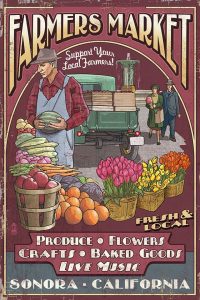 Sonora Farmers Market Poster

View Photos
Sonora, CA — Even with Saturday's impending rains, the Sonora Farmers Market will open for the first time this season this weekend.
Planned hours are 7:30 a.m. until 12:30 p.m., which includes an extra hour at the end. Since it looks like the wet weather will be arriving soon after high noon, folks may want to plan to come early.
There are 44 vendors signed up; 21 certified farmer-producers, 16 food vendors, and 7 craft vendors. Officials say of these, ten are new this year to the Sonora Farmers Market.
Among the other attractions are Bob Alvarez of Shake it Well Chili playing 8 until 10:30 a.m. at the market, followed by Leilani & The Distractions from 10:30 until 12:30 p.m. on the back patio of the Sugg House. Crafts and gold panning for the kids is also going on from 10:30 until 11:30 a.m.
The Farmers Market, which runs through mid-October, coincides this Saturday with downtown Sonora's first-ever Old West Fest that is happening from 10:30 a.m. until 4 p.m., a free and open to the public event. Newsmaker Sheala Wilkenson, the City of Sonora special events coordinator, dishes about the details here.