Katherine Sharp Is The New Miss Calaveras 2019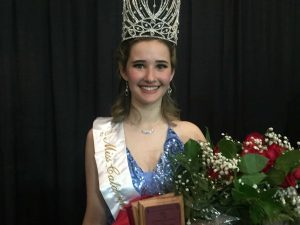 Miss Calaveras 2019 Katherine Sharp

View Photos
The 2019 Miss Calaveras was crowned Thursday night, during the Miss Calaveras Scholarship Pageant at the Calaveras County Fair and Jumping Frog Jubilee.
Katherine Sharp was also Friday morning's KVML "Newsmaker of the Day".
Sharp is seventeen years old and lives in Mountain Ranch. She was home-schooled thorough Connecting Waters Charter School. Sharp is the Vice President of her local 4-H Club and loves riding horses.
Last year, Sharp won the 2018 Saddle Queen competition at the Calaveras County Fair. Sharp gave up her title as Saddle Queen Thursday at 2 PM. Just eight hours later, she was crowned the new Miss Calaveras.
Sharp will be using her $3,000 Scholarship (courtesy of Ironstone Vineyards and the Angels-Murphy's Rotary Club) this fall, as she plans to attend UCLA to pursue a degree in Neuroscience.
In addition to the Scholarship, Sharp received a tiara and sash and won the Community Services Award and the Talent Award.
First Runner-Up is Jillian Rose Zahniser, an eighteen year old senior at Calaveras High School. She lives in Valley Springs. She also won the Directors Award and the Achievement Award.
Second Runner-Up is Emily Bolton, an eighteen year old student at Columbia College. Bolton also won the Photogenic Award.
All three ladies will make numerous appearances at all of the major Calaveras County Fair and Jumping Frog Jubilee events over the next three days and represent Calaveras County at larger events over the next year.
The 2019 Miss Saddle Queen in Madison Wolfman, a seventeen year old student at Bret Harte High School.
The "Newsmaker of the Day" is heard each weekday morning at 6:45. 7:45 and 8:45 on AM 1450 KVML and 102.7 FM