CAL Fire: Camp Fire Caused By PG&E Lines At Two Locations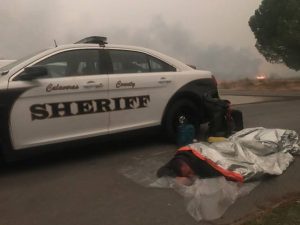 Calaveras County deputy among the responders catches a quick rest in between helping the Butte County Camp Fire efforts Nov 8 2018

View Photos
Sacramento, CA — CAL Fire investigators have released details determining the official cause of the deadliest and most destructive wildfire in California's history as fires sparking from two ignition points.
Wednesday, after completing what they described as a very meticulous and thorough investigation, CAL Fire officials say the Camp Fire was triggered in part by electrical transmission lines owned and operated by Pacific Gas and Electricity (PG&E) in the Pulga area of Butte County in the early morning hours of Nov. 8, 2018. Tinder dry vegetation and Red Flag conditions consisting of strong winds, low humidity, and warm temperatures caused extreme rates of spread that rapidly burned into Pulga to the east and west into Concow, Paradise, Magalia and the outskirts of east Chico.
The investigation identified a second ignition site near the intersection of Concow and Rim roads, where vegetation made contact with other PG&E-owned and operated electrical distribution lines. Investigators say the original fire that started near Pulga consumed the second blaze.
Named after Camp Creek Road near the first ignition point, the Camp Fire caused at least 85 civilian fatalities and several injuries to firefighters and residents. It also completely destroyed the town of Paradise, burned a total of 153,336 acres, and destroyed 18,804 structures. It was 100 percent contained on Nov. 25.