Sonora Area Foundation Stays Active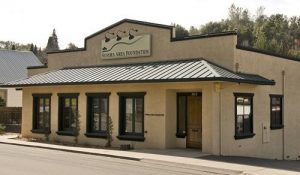 Sonora Area Foundation

View Photos
Sonora, CA – Recently several grants totaling $134,000 were awarded by the Sonora Area Foundation and its supporting organization, the Irving J. Symons Foundation, through the Foundation's competitive grant program. Seven grants were chosen through program, which invites local nonprofits to submit applications for support. 
Ed Wylie, Sonora Area Foundation Executive Director, was Wednesday's KVML "Newsmaker of the Day".
The Youth Sports Foundation of Tuolumne County (YSF) will receive the largest award, $50,000 for field improvements, pending approval of some revisions in the facility use agreement with Sonora Union High School District, which owns the Dome (Dario Cassina) campus.
The grant, funded through the Irving J. Symons Foundation, comes in addition to a $160,000 grant YSF just received from Major League Baseball. The additional grant will allow YSF to move forward this summer with plans to upgrade and reseed 100,000 square feet of playing fields and renovate the baseball and softball diamonds and dugouts. YSF President Dave Crocker said they need this additional $50,000 to move forward with the project.
In addition to the YSF award, the following grants were funded in recent weeks:
Youth and Community Arts – Plans to launch an after-school youth arts-and-science academy and provide other community arts programs and exhibits earned the Central Sierra Arts Council an $18,000 grant. The council is working with the Tuolumne County Superintendent of Schools office to launch arts and science classes at the Sonora Dome campus later this year.
Community and youth theater outreach – Sierra Repertory Theatre received a $30,000 grant from the Sonora Area Foundation and the Irving J. Symons Foundation to help continue a variety of community and youth outreach efforts over the next 12 months. These include student matinees for local schools, benefit theater nights for local nonprofits, and donated and discounted tickets for students, youth, families and seniors and community groups.
Tuolumne Park – An $18,000 grant toward efforts to clean up and improve vacant land next to the Tuolumne library and youth center. The Tuolumne Park and Recreation District, which owns the site, plans to add walking paths, benches, picnic tables and other improvements to create what it calls "a peaceful sanctuary."
Sonora High weight room – $10,000 grant to the Wildcat Club. They plan to replace and upgrade equipment this summer, when the school moves the weight room to a new location on campus.
Transitional home windows -$3,900 from the Irving J. Symons Foundation will help replace windows in the transitional home operated in Tuolumne by the Amador Tuolumne Community Action Agency. The house provides homeless families with up to a year of shelter (they pay rent on a sliding scale) while they save for more permanent housing.
Interfaith computer upgrade – $5,000 to help pay for six computers, a server, two printers, a copier and training for staff and volunteers to help job seekers. 
In 2011, the Sonora Area Foundation awarded over $1.23 million in grants and scholarships to local recipients.
The Sonora Area Foundation was established in 1990, and channels donor contributions to projects in the county. It has administered nearly over $14 million in grants since its inception.
The Sonora Area Foundation has a mission of strengthening its communities. It does that through three functions:
Assisting Donors – The Foundation provides a safe, easy way for people and businesses to make a difference, and assures that their contributions will do good work now and in years to come. Donors may give to existing funds, establish new funds specifically for their individual charitable goals and interests, or may give to the Foundation's unrestricted fund. The Foundation can simplify the giving process, making it quicker and less costly for donors than handling the details themselves or setting up a private foundation. Our experienced staff is committed to providing donors with secure, flexible and convenient services.
Awarding grants – The Foundation's governing board has a pool of discretionary funds, and regularly awards grants to qualified non-profit and public agencies. These grants are competitive, and awarded for worthy projects that help improve the quality of life in Tuolumne County, whether for education, human services, recreation, arts or the environment.
Leading the community – As a respected, neutral organization, the Foundation's duties go beyond donor services and grant making. The Foundation is also a community leader that brings all sides into discussion on important issues and helps find solutions. The Foundation has convened the community on topics as broad as the future and as specific as school services and regional transportation needs.
Wylie is a Sonora native who retired in 2010 after a 32 year career in land use planning and public works administration. In retirement, Wylie was a member of the Board of Directors of Habitat for Humanity for Tuolumne County and was chair of Habitat's construction committee during the start of its Parrotts Ferry Village project.
According to Wylie, the Foundation's Board of Directors is clearly focused on its road ahead, and continues to work together to strengthen the Mother Lode communities and families through the good works for which the Foundation is known.
For more information, log onto http://www.sonora-area.org
Wylie also invites people to stop by the office at 362 S. Stewart Street, or call (209)533-2596.
The "Newsmaker of the Day" is heard each weekday morning on AM 1450 KVML at 6:45, 7:45 and 8:45am.