Yosemite To Close Road Due To Stormy Weather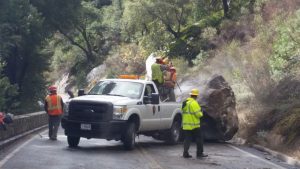 Yosemite road crew works to remove boulder on El Portal Road

View Photos
Yosemite, CA — Due to an incoming winter storm system, Yosemite National Park has decided to shut down a main roadway Wednesday night.
Already garnering a "Winter Storm Warning" from the National Weather Service, as reported here, park officials have issued a traffic alert noting that Glacier Point Road will close to traffic at 6 p.m. on Wednesday, May 15th, as a precautionary measure. It will remain closed until the system passes and the road can be evaluated for hazards, such as mud or rockslides, downed trees or damaged pavement, according to park road officials, who relay that the roadway will reopen when conditions are safe for travel.
While the park remains open to visitors, road officials advise that anyone planning trips to the park over the next several days be prepared for winter driving conditions along the El Portal Road (Hwy 140), Big Oak Flat Road (Hwy 120 W) and Wawona Road (Hwy 41). Additionally, chains may be required and temporary road closures may go into effect at any time depending on conditions.