Three Arrests Made For Drugs, Brass Knuckles, Child Neglect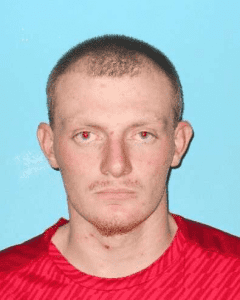 Cole Cranstoun TCSO Booking Photo

View Photos
Sonora, CA — Sounding car alarms and a wandering child led to three arrests in two separate incidents.
A recent response to the 20200 block of Jamestown Road for a report of a man tampering with vehicles and setting off car alarms had Tuolumne County sheriff's deputies searching for a man sitting in a tan truck. Arriving deputies contacted 25-year-old Alex Kirkbride in the driver's seat of a tan-colored Chevrolet Silverado and his passenger, 21-year-old Cole Cranstoun.
As Cranstoun turned out to be on probation, deputies conducted a search during which they found a plastic baggie of methamphetamine in his pocket. They also found a set of brass knuckles in the driver's side door of Kirkbride's truck. Kirkbride and Cranstoun were respectively booked into the Tuolumne County Jail for possession of metal knuckles and possession of a controlled substance.
A report of a lost child recently brought deputies to a Sonora home on Blue Bell West. Once they arrived, they found an eight-year-old child with an unkempt appearance who had been walking in the road for about a half-hour. Deputies heard her mother told her to leave her home on Blue Bell East.
Attempting to locate the mother, identified as 28-year-old Amy Locklin, deputies went to her home, which was approximately a mile away. Although she was not there, they found her at a Mountain Lilly Road residence, where Locklin told deputies the child had been away for about two hours and she had gone looking for but could not find her and did not call law enforcement. Officials say Locklin was not sure of her second child's whereabouts.
Child Welfare Services responded to the home to take over care of the two children and deputies transported Locklin to the jail where she was booked on child neglect/child endangerment charges and two misdemeanor warrants.