Calaveras Fair A Community And Economic Generator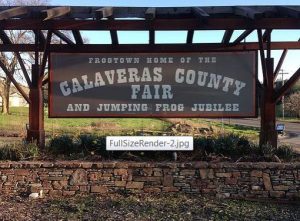 Calaveras County Fair & Jumping Frog Jubilee enterance sign

View Photos
Angels Camp, CA — Noting that it is the signature event of Calaveras County, generating over $5-million in spending activity, the board of supervisors took time to celebrate this week's Fair and Jumping Frog Jubilee.
The first Calaveras Fair was held 1893, and modern day frog jump was added in in 1928, in recognition of Mark Twain's classic tale "The Celebrated Jumping Frog of Calaveras County."
A proclamation was unanimously passed at today's supervisors meeting, and board member Merita Callaway read it alound, noting, "The Calaveras County Fair generates hundreds of thousands of dollars for the youth of Calaveras County through the Junior Livestock Auction, Industrial Arts Auction and Scholarship programs. And, whereas, the spending activity related to the Fair is $5.2-million."
The proclamation concludes by stating, "The community celebrates together as one and strangers become neighbors and children make memories."
This year's theme is "Be a Kid Again."
Later today local leaders will host a frog jump outside the Government Center in San Andreas. Board Chair John Garamendi has offered a friendly challenge to Angels Camp Mayor Amanda Folendorf. Some other supervisors then joked that they would also be challenging Garamendi.
Garamendi had his frog in attendance at the meeting, which he named, "The Promise of Paloma."
The fair runs Thursday through Sunday.
Click here for more details.