Sonora High Wildcats Baseball On A Roll Heading Into Postseason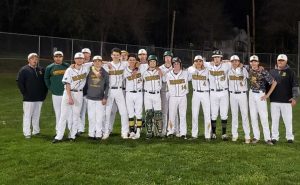 Sonora High Wildcats Baseball Team

View Photos
Sonora, CA — The Sonora High Wildcats baseball team is riding a four game winning streak as they head into the CIF Sac-Joaquin Section playoffs.
The Wildcats are the 5th seed in the bracket and will host 12th seed El Dorado this Tuesday at 6:30pm at Sonora High School. The Wildcats finished the regular season with a 13-7 overall record.
Head Coach Chet Winham says, "It took us a little while to find ourselves at the beginning of the season, but during the last few games, our plan really started to come together, and the kids really started to understand it, and execute it. We are definitely on an upswing at this moment."
It will be a rematch of sorts, as last year El Dorado was the top seed in the bracket, and knocked out the Wildcats in the second round.
Hoping for a big turnout Tuesday, Winham says, "There will be some fanfare before the game, and I would love everyone to come out, and have a big hometown showing."
During the playoffs, he adds, "Everybody is hanging onto every single pitch, and there is more electricity in the air."
Winham says one of the factors that has helped the team be successful is the strong cohesiveness between the coaches and the players. This year's assistant coaches are Ricky Pinocchio, John Moberg and Josh Schultz.
While the lineup has not been finalized for Tuesday, the likely starting pitcher will be star lefty Tyler Matyshock, who has garnered national attention as a collegiate prospect. Winham says, "He's something else. I don't know that we'll see another pitcher quite like him for a while." Another player that the coach says has really stepped up is Braden Hobbs, who Winham calls a "defensive gem," who has worked through injury during the season. While Hobbs is primarily a shortstop, the versatile Junior has also been asked to catch and pitch at various times. A third standout that has evolved is Junior left-hander Josh Dutra, who initially was a relief pitcher, and has risen to be the number two starter on the pitching staff.
The winner on Tuesday will move on to face either Pioneer or Union Mine on Thursday. Click here to view the bracket.