The Bullet Train Is Not Derailed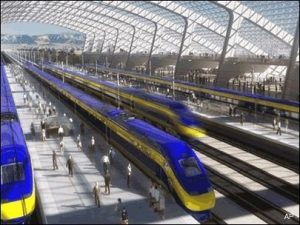 HSR

View Photos
Sacramento, CA — The Associated Press reports California lawmakers have approved a bill that authorizes construction of the first stretch in the Central Valley.

SB1029 allows the state to begin selling $2.6 billion in voter-approved bonds for 130 miles of track from Madera to Bakersfield. The federal government has agreed to match $3.2 billion.
The state Senate voted 21-16 along party lines this afternoon after intense lobbying by Gov. Jerry Brown, Democratic leaders and labor groups.
Governor Jerry Brown says "In 2008, California voters decided to create jobs and modernize our state's rail transportation system with a major investment in high-speed rail and key local projects in Northern and Southern California. The Legislature took bold action today that gets Californians back to work and puts California out in front once again."
Assemblymember and Chief Republican Whip Kristin Olsen, R-Modesto, says "The legislature's approval of the High Speed Rail project will surely make voters think twice about passing the Governor's tax initiative now that they can see just how misplaced our state's priorities are."
This will be the nation's first dedicated high-speed rail line, eventually connecting Los Angeles and San Francisco.

The bill easily passed the Assembly on Thursday.