Sonora Eyes Greenley Intersection Improvements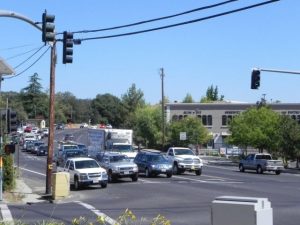 Mono Way at the Greenley Road intersection

View Photos
Sonora, CA — Somewhat tied to Sonora Regional Medical Center's plans to build on the former Andy's Home Center space, is the City's efforts to acquire property and widen the Mono Way-Greenley Road intersection.
It is one of the busiest intersections in Sonora, and the Medical Center's expansion could lead to additional traffic. (To read and earlier story about the SRMC purchase, click here)
City Administrator Tim Miller says making improvements to the intersection will be Sonora's top transportation priority, following the construction of the Mono Way widening project. (A portion of Mono Way will be widened to five lanes between Greenley Road and Fir Drive, with construction scheduled to start next Spring)
"When we get that project underway, we will start in earnest on planning the intersection improvements," says Miller. "There will be additional right of way needed to accommodate a new turn lane heading north on Greenley. We will have to go through an appraisal process and negotiations with the landowner to acquire that property."
The property is the Chevron station and car wash located at the Mono Way-Greenley Road intersection.
"Whether it requires the acquisition of the entire site, or a portion of the site, is something that will be resolved through the whole appraisal process," adds Miller.
Funding for the intersection improvement project, including the land acquisition, would come from the city's Traffic Impact Mitigation Fees. Miller says the intersection improvements are currently scheduled for around 2017, but he is hopeful that the city will be able to speed up the process. He notes that the project is, "at least a couple of years away."