Rail Project Could Impact Tax Vote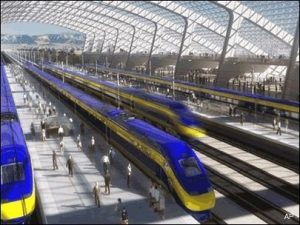 HSR

View Photos
A new Field Poll shows strong support for Governor Jerry Brown's November tax measure, but there is concern over high speed rail.
The poll finds 54 percent of likely California voters in favor of the November tax measure and 38 percent in opposition. However, one-fifth of the voters that approve the taxes say that they would be less inclined to vote yes if the legislature proceeds with the high speed rail project. A vote to issue high speed rail bonds could come as early as today or tomorrow.
The poll also found that voters are split on a competing tax initiative pushed by Molly Munger. That measure would increase income taxes on most all Californians, not just the highest earners. 46 percent are in favor and 46 percent are in opposition.