Juniper Uranium Mine Restoration Begins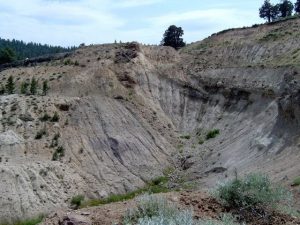 Juniper Uranium Mine

View Photos
Stanislaus National Forest, CA — On Monday the Stanislaus National Forest begins materials staging and hauling work on a restoration project.
The mine is on Eagle Meadow Road. Forest visitors and private property owners who use that road should be aware that dump trucks will be traveling the road between the stockpile of material just off Highway 108 and the mine site roughly ten miles away.
About 100 truckloads will be moved over the next three weeks. The work will be done mostly Monday through Thursday and no weekends.
The plan calls for the piles of waste rock materials surrounding the mine to be replaced back into the open pit this year. Last year, a rock under-drain was constructed at the bottom of the pit to capture seepage and spring water for transport under the replaced material rather than through it. A toe berm was built at the mouth of the pit just above a sediment catch basin. The basin will be monitored for the next several years to gage progress.
Additional work will include covering the site with a liner and three feet of clean soil, re-vegetation using local seeds collected over the last two years, drainage ditches and erosion controls.
The total project is expected to be completed by this fall.
To see a map of the site click here.