A Pursuit Ends With Stolen Vehicle Arrest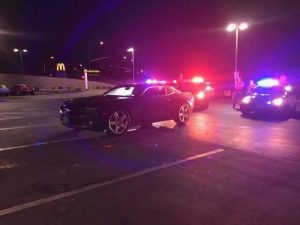 TCSO stolen vehicle arrest

View Photos
Sonora, CA — A "Be-on-the-Lookout" bulletin was issued for a sports car in the Sonora area and a deputy spotted it on Tuolumne Road, initiating the chase.
The alert on a black Chevy Camaro was put out just after 1:30 a.m. on Thursday reporting the vehicle was last seen leaving the Black Oak Casino in Tuolumne. Meanwhile, a Tuolumne County Sheriff's Deputy was traveling along Tuolumne Road when the vehicle in question passed by and the deputy turned on the sirens to pull it over. Instead, the driver, 29-year-old Matthew Souza of Hilmar, took off.
The chase last about one-mile and ended in the McDonald's parking lot on Mono Way, according to sheriff's officials. When Souza was ordered out of the car, he refused, but a short while later gave himself up. Investigators report that the vehicle was reported stolen out of Turlock after the owner awoke to find his home's front door open and his vehicle that was in the driveway gone.
Sheriff's officials also revealed that fingerprint analysis had to be used to identify Souza as originally he gave a false name. He faces possession of a stolen vehicle, false ID, failure to obey a peace officer charges along with violation of his parole for robbery.