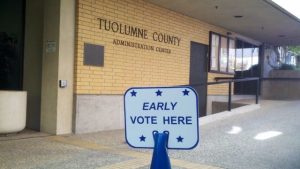 Tuolumne County Voting

View Photos
Calaveras election officials finished counting the 243 provisional ballots yesterday. In the District one race, Gary Tofanelli was not able to expand his 49% vote lead to win the race so he will face second place finisher, Cliff Edson again in November.
The provisional ballots were checked and certified, before it could be confirmed that Calaveras county's close races will have run-off elections in November.
In Tuolumne County, Election officials are still working on counting their 400 provisional ballots. They say they are half way through and hope to have them completed by the end of the day.
A close race to watch that could become a recount is the District five race. Karl Rodefer has an even 50 percent, not enough to give him the win. The provisional count may give him the lead, but if not he could call for a recount. Election officials say that would cost him around $700 dollars and could take a month or more to declare a winner. Otherwise, Rodefer will face a run off with Domenic Torchia who's in second place.