Scare For Shoppers As Shooting Flames Seen By Store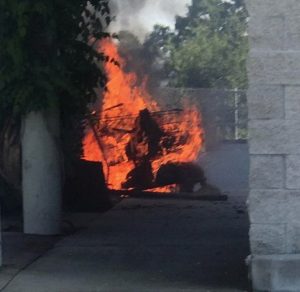 Cart and vehicle fire at Crossroads Shopping Center

View Photos
Sonora, CA — Fire crews made quick work of a vehicle fire at the Crossroads Shopping Center on Sanguinetti Road in Sonora.
Shoppers were alarmed by the sight of flames and billowing smoke coming from between the Jamba Juice and Staples store. Initially, resources were dispatched for a report of a brush fire behind the center, but when firefighters arrived on the scene they saw flames shooting out of a shopping cart, and the engine of a Toyota Corolla the cart was up against, as the picture in the image box shows.
Sonora Police Sgt. Tim Wertz reports, "It would appear that possibly the cart was set on fire and was rolled to the car. We weren't able to locate the responsible or any witnesses."
Crews were able to extinguish the blaze within minutes. A witness in the area just before the flames broke out tells Clarke Broadcasting they saw some youth playing around the cart. The incident remains under investigation and Sgt. Wertz asks that anyone that may have information regarding the fire to contact him at 532-8141.  No injuries were reported in the blaze.