Tuolumne Supervisors Stress Importance Of Wildfire Preparedness Week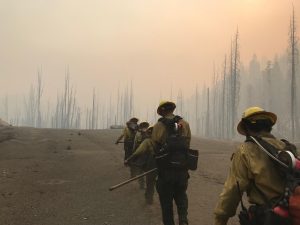 Donnell Fire

View Photos
Sonora, CA — Last year, the CAL Fire Tuolumne-Calaveras Unit responded to a combined 550 wildfires.
Statewide, CAL Fire witnessed 6,741 fires that burned over 1.1-million acres. The statistics were read aloud as the supervisors approved a proclamation declaring this as "Wildfire Preparedness Week."
District One Supervisor Sherri Brennan, who heads a local committee focused on wildfire preparedness, noted that she was pleased to see so many residents attend recent fire town hall meetings in various communities. However, she says, "I've talked to a number of individuals, and asked them if they have started to prepare, and done their go bags, are working on the vegetation around the house, and taking ownership of what they can do. A lot of individuals, still, are not doing that. We cannot afford to be complacent on this issue."
Clarke Broadcasting recently concluded a four-part Mother Lode Views series dedicated to fire preparedness, and it is archived online. The shows focused on the Tuolumne County Fire Initiative, evacuations and ingress and egress issues, defensible space and home hardening, and prevention projects currently underway.