Supes Unanimously Approve Resilience Centers For Groveland, Tuolumne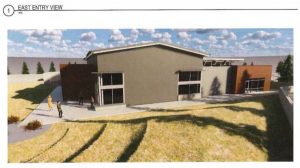 Groveland Community Resilience Center Proposal

View Photos
Sonora, CA — Following a presentation to a packed room and many passionate comments in favor, the Tuolumne County supervisors voted to proceed with plans for two multi-million community resilience centers with federal grant monies.
The half-hour special meeting timeslot at 1:30 p.m. ran well into the 3 o'clock hour. The supervisors heard Deputy County Administrator Maureen Frank recap the background and details to date of the recently completed development phase for the project.
It is one of three pillar programs within the $70 million grant awarded by the feds to Tuolumne Country and the State of California through the National Disaster Resilience Competition in the wake of the Rim Fire. The other two deal with forestland and watershed work and the building of a biomass plant.
As reported here, the board intended the session to determine the ultimate feasibility of maintaining two centers. Frank addressed earlier concerns over whether the county could afford to maintain and operate the centers once they were in place.
She demonstrated how the costs would pencil with community collaborating agencies such as the Amador-Tuolumne Community Action Agency and Columbia College contributing by renting office and conference room space as well through special event rentals.
Most of the members of the public who lined up to speak at the podium identified themselves as residents from Groveland or Tuolumne, the towns where the proposed centers would be located as both were in the Rim Fire footprint. Many articulated that if the board narrowed the project to one location that it should be their community.
In the end, the point was moot as the supervisors unanimously approved both centers to proceed to the next phase. To see the latest related renderings, click into the image box slideshow.