Terra Vi Lodge Yosemite Project Going Through Review Process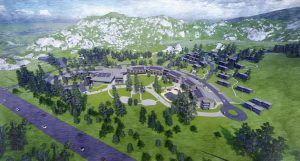 Terra Vi Lodge Yosemite

View Photos
Groveland, CA — A public comment period just opened ahead of creating a Draft Environment Impact Report for a lodging project in southern Tuolumne County.
The Terra Vi Lodge Yosemite would include a lodge with hotel rooms, a public market, meeting space and guest facilities. There would also be cabins, employee housing, outdoor amenities, walkways and parking. It would spread across 64-acres at the intersection of Highway 120 and Sawmill Mountain Road. It is approximately half way between the community of Buck Meadows and the Yosemite National Park entrance.
The project includes developing a public water system from two existing on-site wells, a graywater system for landscape irrigation, and roof mounted solar panels. The land is in the 2013 Rim Fire burn scar, and there are currently no structures at the site
The public scoping period opened today and will continue through June 3. Residents can note what items they feel the environmental document should look at.  There will also be a meeting related to it on Monday, May 13, at 6pm, at the Groveland Community Hall.
Tuolumne County Community Resources Agency Assistant Director of Development, Quincy Yaley, says once the scoping period is completed, a Draft Environmental Impact Report will be developed. Then there will be another 30-day comment period before a final EIR is created and released. The project would then go to the Tuolumne County Planning Commission for action, best case scenario, late this year.
Yaley notes that any comments submitted to the CRA prior to this current public scoping period will be included in the county's public record. So far the agency has received close to 100 comments.
The project developers are Hanji Corporation, an investment group out of Los Angeles.
To find more details about the project, and information about how to comment, click here.