Judge Rules On Lawmaker Paychecks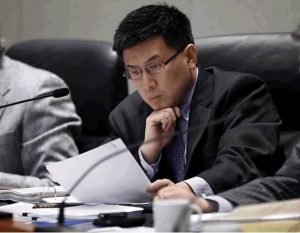 State Treasurer John Chiang

View Photos
Sacramento, CA — A judge has ruled that state Controller John Chiang overstepped his bounds by halting lawmaker pay for 12 days last year.
A Superior Court Judge in Sacramento ruled that Chiang violated the separation of powers clause in the California Constitution. Chiang argued that he was carrying out Proposition 25, which was approved by voters in 2010. Chiang said that the budget submitted by lawmakers, and later vetoed by the Governor, was not balanced. For that reason, he felt that lawmakers did not have the right to receive a paycheck.
The judge took a different stance, and said Chiang cannot unilaterally make this decision, if the lawmakers believe that the budget is balanced.
Last year, paychecks resumed shortly after a new budget was approved.