Yosemite Updates Two Visitor Enhancement Projects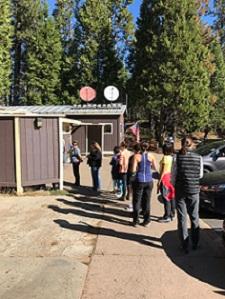 Big Oak Flat welcome center complex

View Photos
Yosemite, CA – With construction set to begin in 2020, Yosemite National Park is holding a meeting next week to update the public on two projects with parking a key part of both.
The Big Oak Flat Welcome Center and the Tuolumne Meadows Parking Relocation Projects will be detailed at the May 9th meeting running from 3 p.m. to 4:30 p.m. at the Groveland Community Hall located at 18720 Highway 120 in Groveland. Park staff will give presentations from 3–3:45 p.m. with an open house following until 4:30 p.m.
Both the welcome center and Tuolumne Meadow projects will replace road side parking with new or expanded parking areas, according to park officials, who add no spaces will be lost. The improvements are being made to improve the visitor experience, address deferred maintenance and improve public safety. They point to the current roadside parking that blocks the views of the meadows and negatively impacts critical meadow habitat as vehicles encroach into meadow and riparian areas.