Alleged Burglars' Backpack Search Uncovers Array Of Drugs For Sale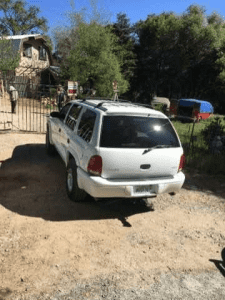 White Satariano Arrest Evidence Photo April 27 2019

View Photos
Sonora, CA — Deputies investigating a thwarted theft busted two alleged drug dealers also packing burglary tools and stolen credit cards.
According to Tuolumne County Sheriff's spokesperson Sgt. Andrea Benson, her office received a report of an attempted theft of copper wire from Sierra Pacific Industries in Sonora on Saturday morning. At the same time, deputies received a detailed description of the potential vehicle involved, a gray GMC pickup, and began a search that wound up in Sonora at a probationer's home on Tinnin Road.
Benson shares that investigators contacted several people there, including 34-year-old Nathan White and 27-year-old Harley Satariano of Modesto. A search of a backpack associated with the pair recovered several individually packaged bags of methamphetamine, heroin, cocaine and prescription pills along with burglary tools and credit cards in other people's names.
The two were arrested for possession and transportation of a controlled substance for sale. Satariano was additionally charged with possession of drug paraphernalia while White faces additional charges of possession of burglary tools and possession of stolen credit cards. Each was assigned a $30,000 bond.