Beardsley Day Use Road Remains Closed Indefinitely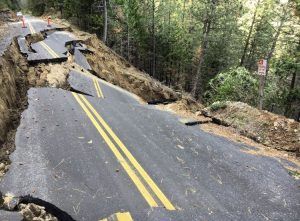 Beardsley Day Use Road

View Photos
Tuolumne County, CA — As the temperatures are warming, many Mother Lode residents are starting to explore popular spring and summertime recreation spots.
One area that has been closed since early 2017 is the Beardsley Day Use Road (Forest Road 4N29). Following a storm in February of that year, two sections of the road, approximately 100 yards apart, failed to the point where the road became unsafe.
Tuolumne County officials have been receiving questions about whether it will finally reopen this season. The Community Resources Agency reports that the project, being overseen by the Forest Service, qualified for Federal Highway Administration funding. However, due to the complexity of the damage, the Forest Service had to hire a civil engineering firm to do a site survey and geotechnical investigation. Forest Service Engineers are now working with the data to plan the repairs. The schedule is tentative on a contract being awarded, but the construction will likely take until the Fall of 2020.