Angels Camp Approves Economic Corporation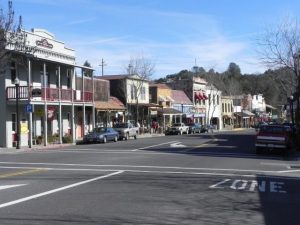 Downtown Angels Camp

View Photos
Angels Camp, CA — After delaying a decision at the previous meeting, the Angels Camp City Council approved creating an Economic Development Corporation. The Destination Angels Camp committee, created in 2008, is now Angels Camp's official non profit economic development corporation.
According to Destination Angels Camp Board Chair, Anne Forrest, "The Destination Angels Camp Board is very please that the City Council approved the set up."
At least one City Council member or the Mayor, the City Administrator, and the city's Planning Director, will serve on the executive board.
Forrest says, "Now we have a lot of work to do. First of all develop a strategy document, the economic development strategy for the city, and action plans, to get organized as a corporation."
Forrest also says, "We have a terrific mandate from the city. Lots of support from citizens, and businesses in Angels Camp, and now we have to deliver."
Two related articles are "More Than Branding For Angels Camp" and "Angels Camp Postpones Economic Development Decision."