Storm Damaged Marquee Replaced At Mariposa County Fairgrounds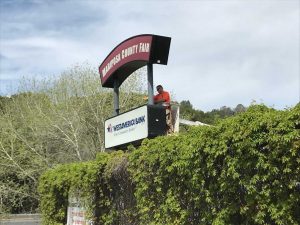 Replacing Marquee At Mariposa Fairgrounds

View Photos
Mariposa, CA — Thanks to donations totaling over $21,436, the Mariposa County Fairgrounds has a new marquee in place.
The original marquee was installed over a decade ago, and it became completely inoperable following a storm event last month. Fair General Manager Brian Bullis says, "We're not sure, but we think it was a lightning strike that took it out."
After learning that it would take over $21,000 to replace, the Mariposa Rotary Club quickly chipped in $5,000. The Mariposa Lions Club then got involved by giving a matching $5,000 gift, and the Mariposa Friends of the Fairgrounds stepped up and agreed to provide the remaining money needed.
The marquee is used to convey information about events coming up both at the fairgrounds and throughout the Mariposa community.