Update: Residential Structure Fire Across From Summerville Elementary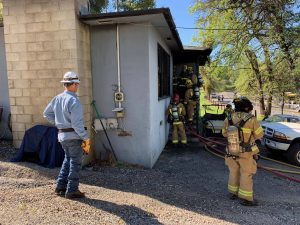 House Fire on Apple Colony Road

View Photos
Update at 10:20am: The house fire on Apple Colony Road has been contained and the lockdown at Summeville Elementary has been lifted. Mop-up operations will continue.
The American Red Cross is responding to assist four residents that were displaced by the blaze. Three of those people were taken away by ambulance to be treated for smoke inhalation. Of those, one was rescued from the home when the first responders arrived. The fire ignited in the 18000 block of Apple Colony Road at around 9am. Summerville Elementary School was briefly put on lockdown while firefighters extinguished the blaze. What ignited the fire remains under investigation.
Update at 9:48am: Firefighters are making progress extinguishing the house fire in Tuolumne, across from Summerville Elementary School, and some of the resources are starting to be released. The American Red Cross has been requested to help the displaced residents. There remains a heavy amount of activity in the area. The initial report from responders was that the fire was in the 18000 block of Carter Street, but officials now confirm the home is actually situated on the nearby Apple Colony Road.
The Tuolumne County Sheriff's Office reports that four occupants were in the home when the fire ignited, and three are being transported to the hospital for smoke inhalation.
Summerville Elementary remains on lockdown until the fire is fully contained.
Original story posted at 9:10am: Tuolumne, CA — Firefighters are on the scene of a structure fire across the street from Summerville Elementary School.
It is in the 18000 block of Carter Street in Tuolumne. Heavy smoke is visible from the blaze. Fire officials note that the school is being placed on lockdown so that students remain inside while the fire officials put out the blaze.
The four people inside the burning home were able to get out, but one required a rescue by arriving first responders. No additional information is immediately available. Be prepared for activity in the area.