Ferguson Fire Burn Scar Rehabilitation Nearing Finish Line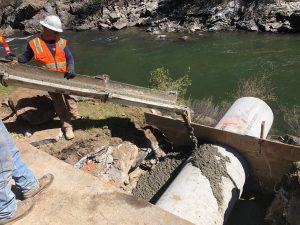 Emergency culvert repairs along HWY 140 for the Ferguson Fire Burn Scar Rehabilitation project

View Photos
Mariposa County, CA – Caltrans reports that work along Highway 140 in the Ferguson Fire burn scar is expected to be finished in about a week.
Over the past few months, Caltrans says a crucial chunk of work on the emergency rehabilitation project along the highway in Mariposa County has been completed and will allow motorists to roll over the highway at the end of this month. Some of the work being done was the replacement of 17 underground drainage systems or culverts. Much of the work was done along 12 miles of the highway where crews removed hazardous trees, brush and did rock scaling. The latter helps to prevent future mud, rock and debris slides along the shoulder of the highway.
Of note in Tuolumne County, during the winter months, Caltrans closed a 17 mile stretch between Midpines and El Portal on the roadway near Yosemite National Park several times as a preemptive move for motorists' safety, as reported here.