Taking Pills To Combat Drug Addiction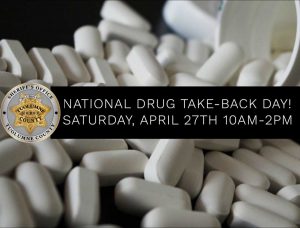 National Drug Take-back Day

View Photos
East Sonora, CA — This weekend across the country, and right here in the Mother Lode, the public can join in the fight against the opioid crisis that is fueling overdose deaths.
Six million Americans misused prescription drugs, according to the 2017 National Survey on Drug Use and Health, which also shows they get those drugs right out of the family's medicine cabinet. This Saturday, April 27th is "National Prescription Drug Take-back Day." Tuolumne County Sheriff's Deputies will be on hand at the Community Service Unit Office located on Mono Way in East Sonora at the Junction Shopping Center from 10 a.m. and 2 p.m. for dropping off unused or expired medication. All liquid medicines must remain sealed and in their original containers. Intravenous solutions, injectables and syringes are not accepted.
All those who participate can remain anonymous as sheriff's officials relay that no record of the dropped off medications will be kept. For those who cannot make the event, drugs are collected year round at the sheriff's office at 28 North Lower Sunset Drive in Sonora. Simply put the drugs into the receptacle in the lobby.