26th Annual Sonora Celtic Faire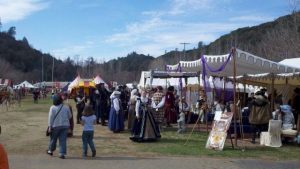 Celtic Faire

View Photos
Sonora, CA – The 26th Annual Sonora Celtic Faire, promoted by event organizer Patrick Karnahan as the "Original and largest Celtic Faire," has returned to Sonora. The event, held at the Mother Lode Fairgrounds, celebrates the cultures of Ireland, Scotland, Cornwall, Wales, and all Celtic Nations.
The fair began Friday with "Celtic Family Day". Many families, home-schooled children and several other schools visit each year to enjoy and learn from hundreds of costumed Celtic performers and craftsmen re-enacting Celtic History, music and jousting. Later in the evening the kick-off party featured a "Great Crazy Celt Competition" with several awards for the best dressed attendees.

According to Karnahan, "The largest gathering of Celtic musicians will be one of the highlights at this year's event, from high-energy Celtic rock bands to the most traditional of groups." In all twenty musical groups will perform on five stages.
The faire will showcase The Imperial Knights, whose members are featured on a new History Channel program "Full Metal Joust". The Knights will dress in full armor and ride their warhorses in battle to see who will be the champion of Sonora. Also featured are Scottish Highland Games and the Gypsy Time Travelers.

The faire is offering parking and shuttle bus service from the Sonora Wal-mart parking lot to the fairgrounds.

Find detailed information about this and other events taking place this weekend in our event calendar listing here.